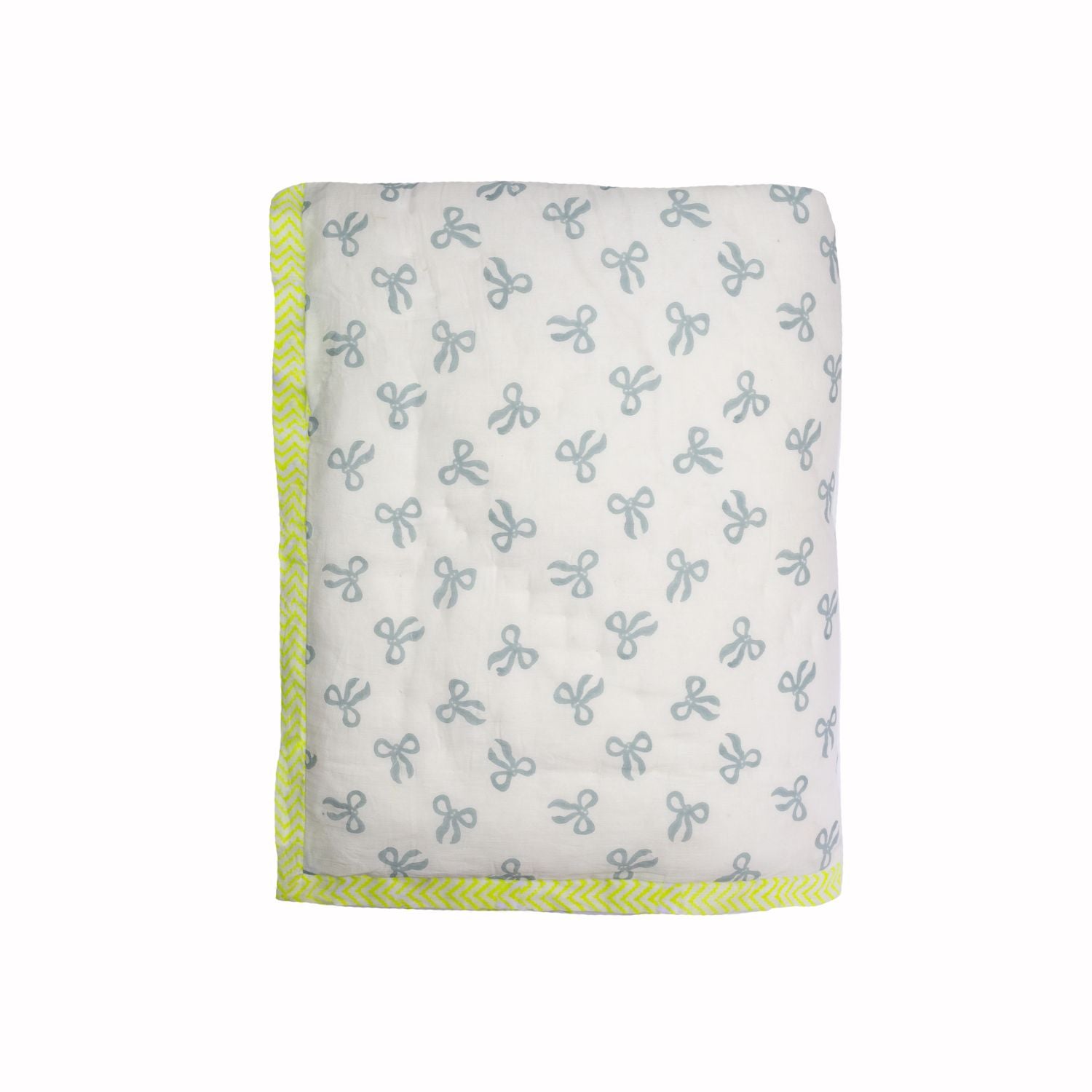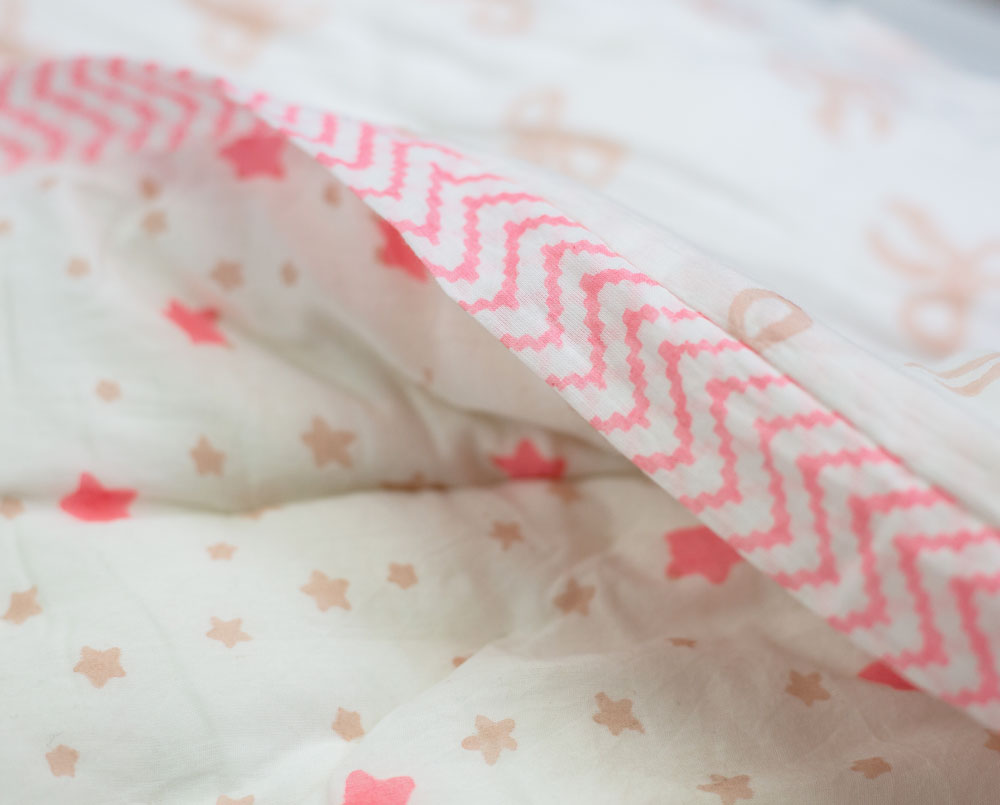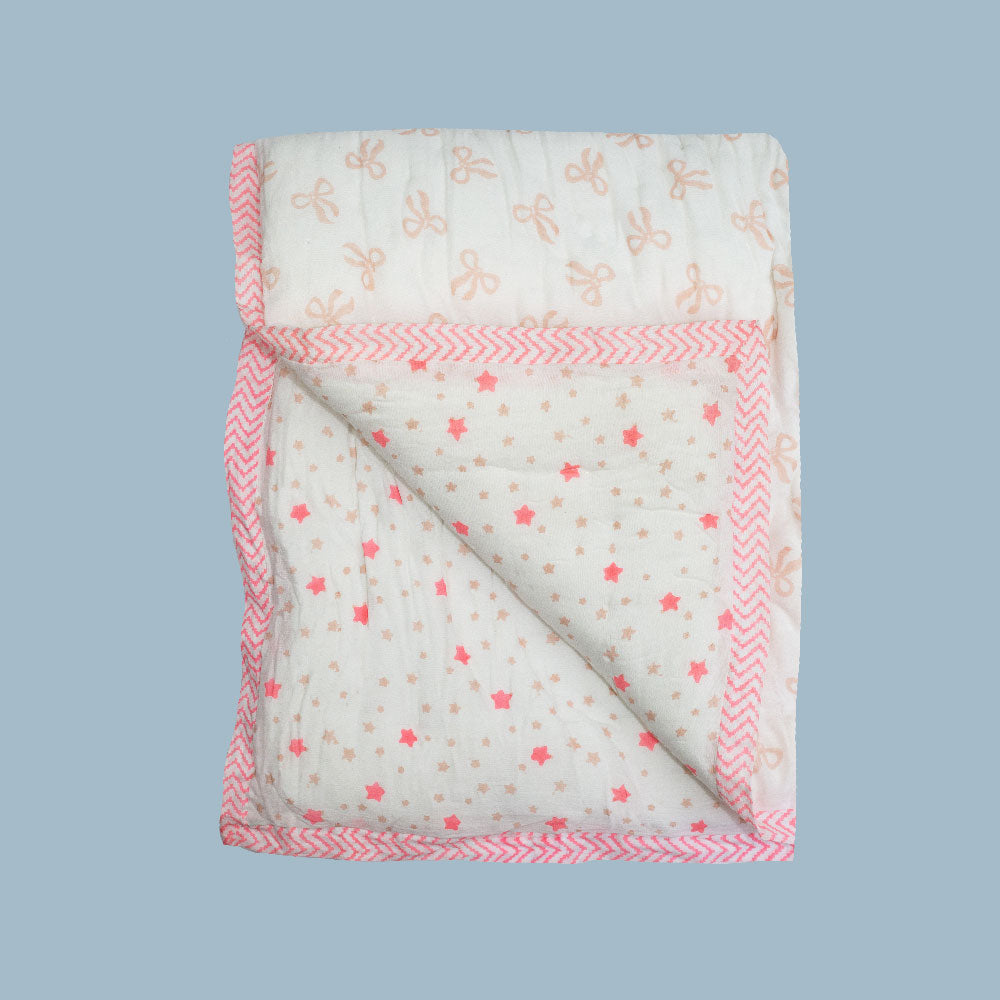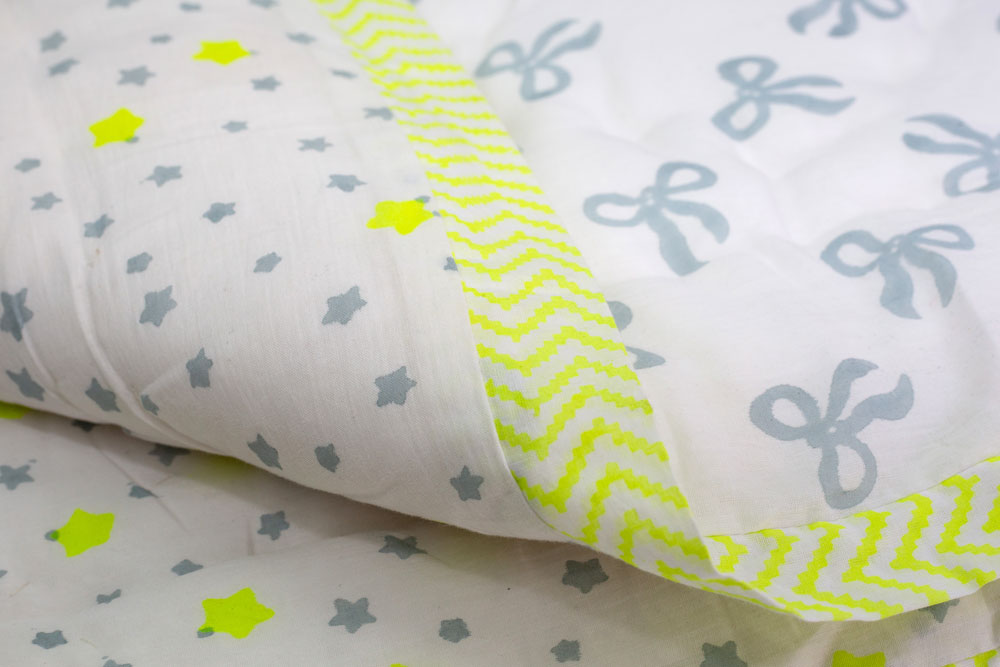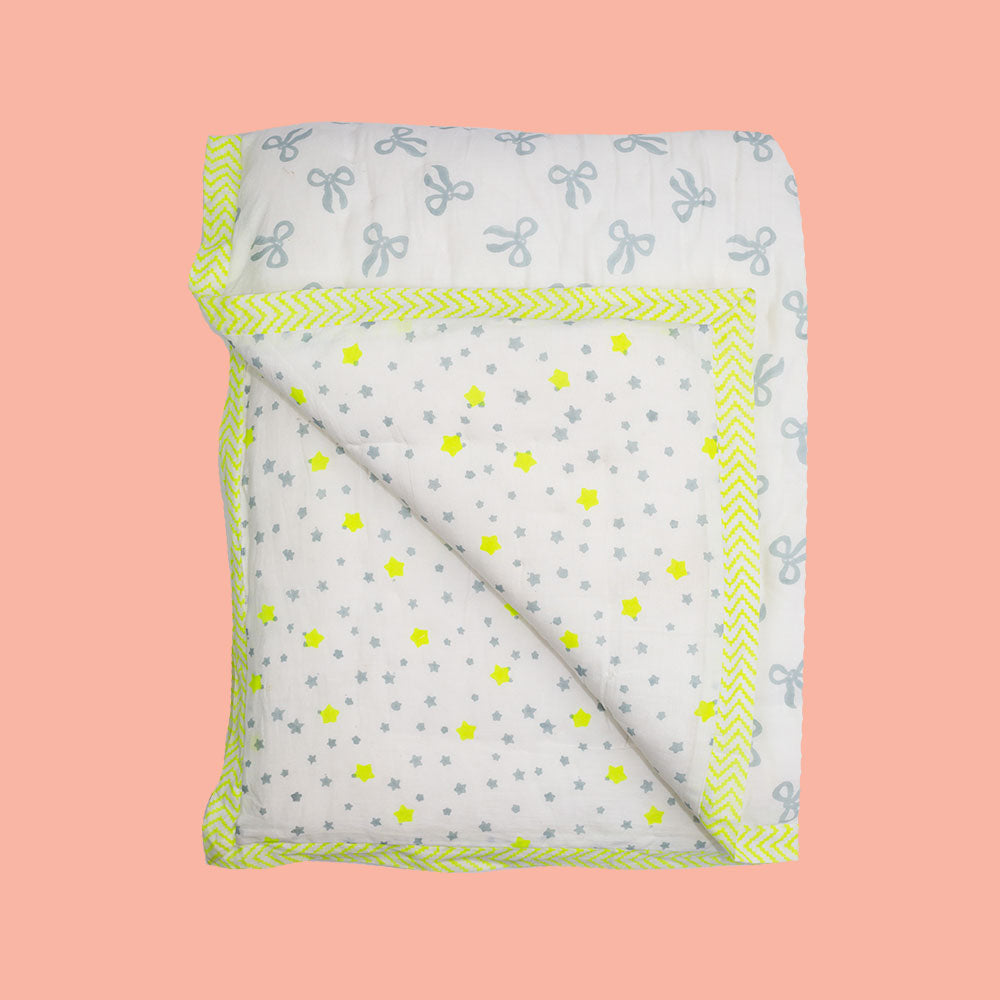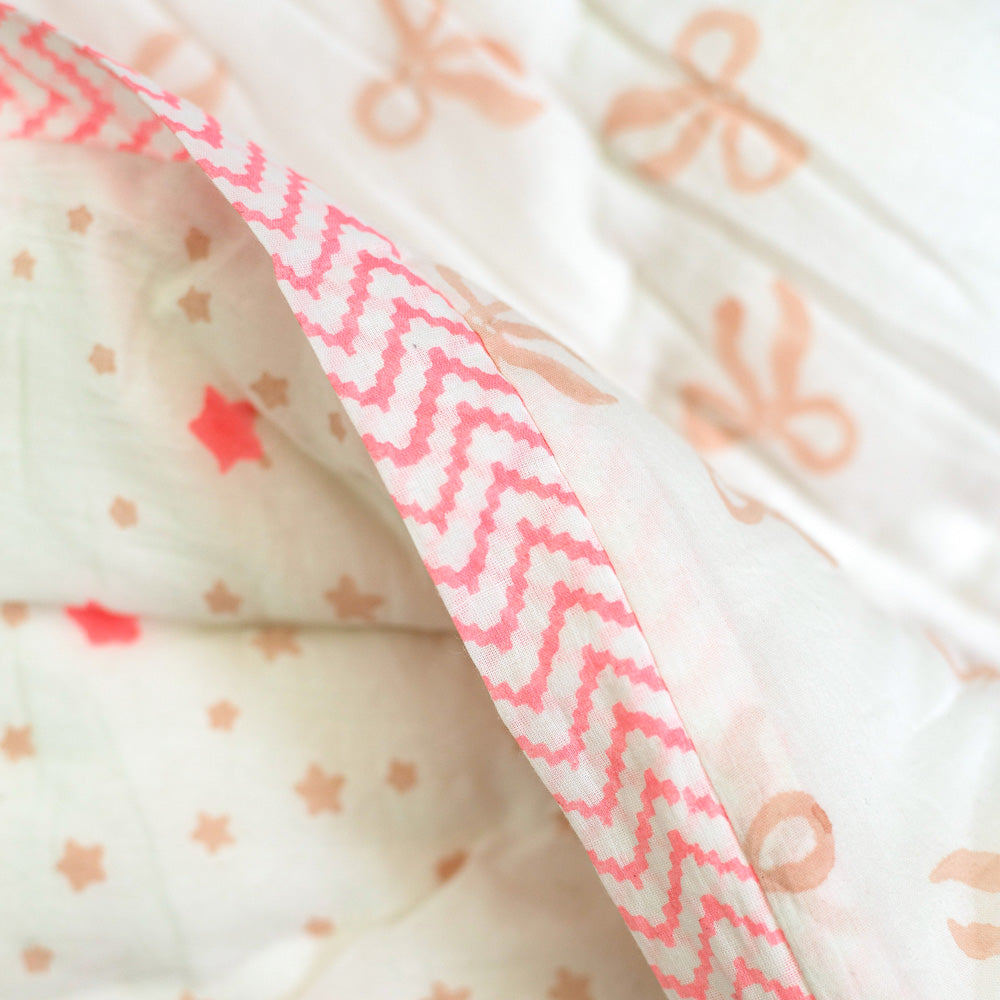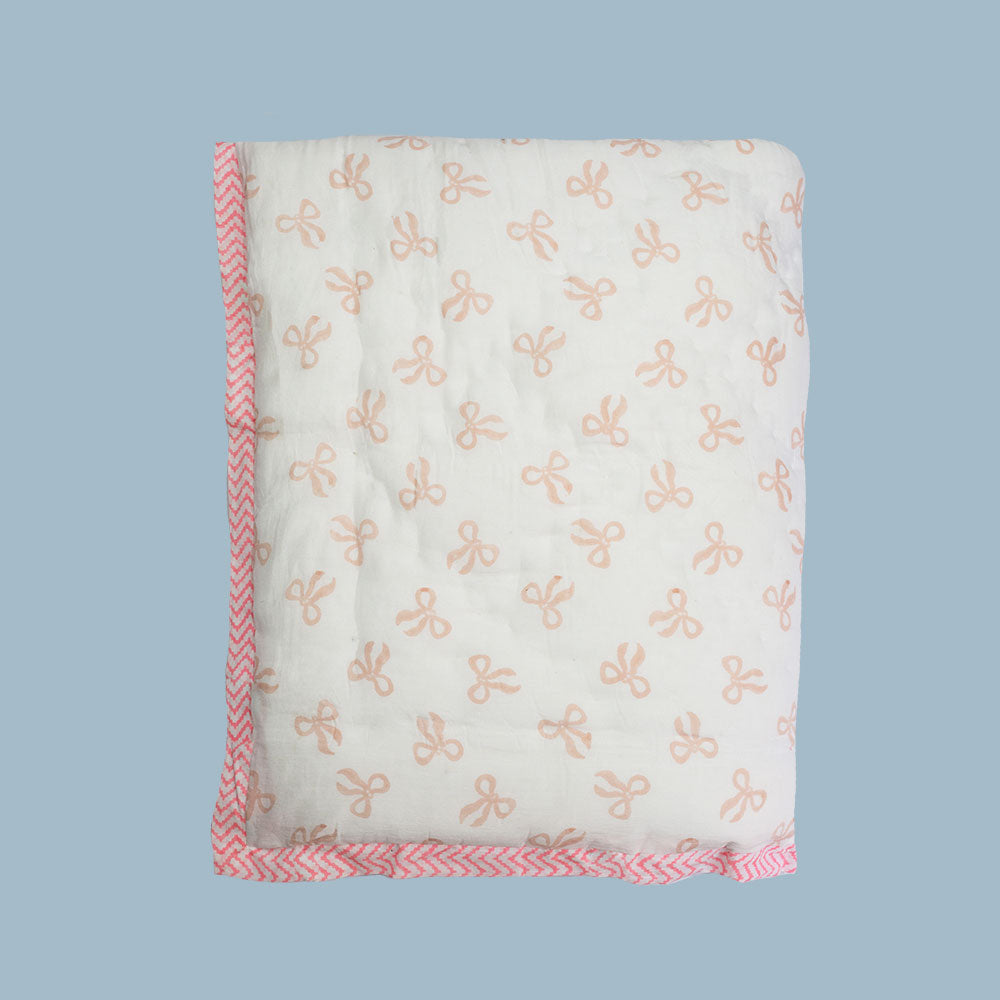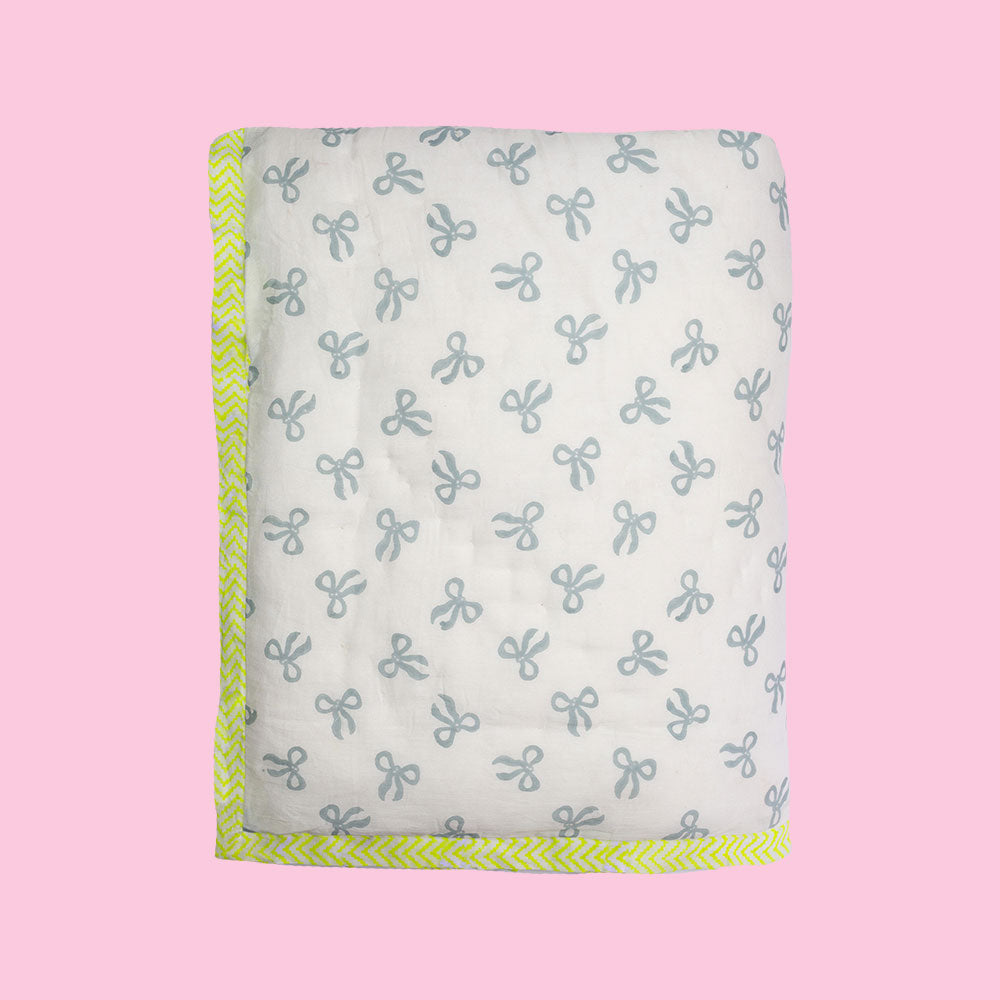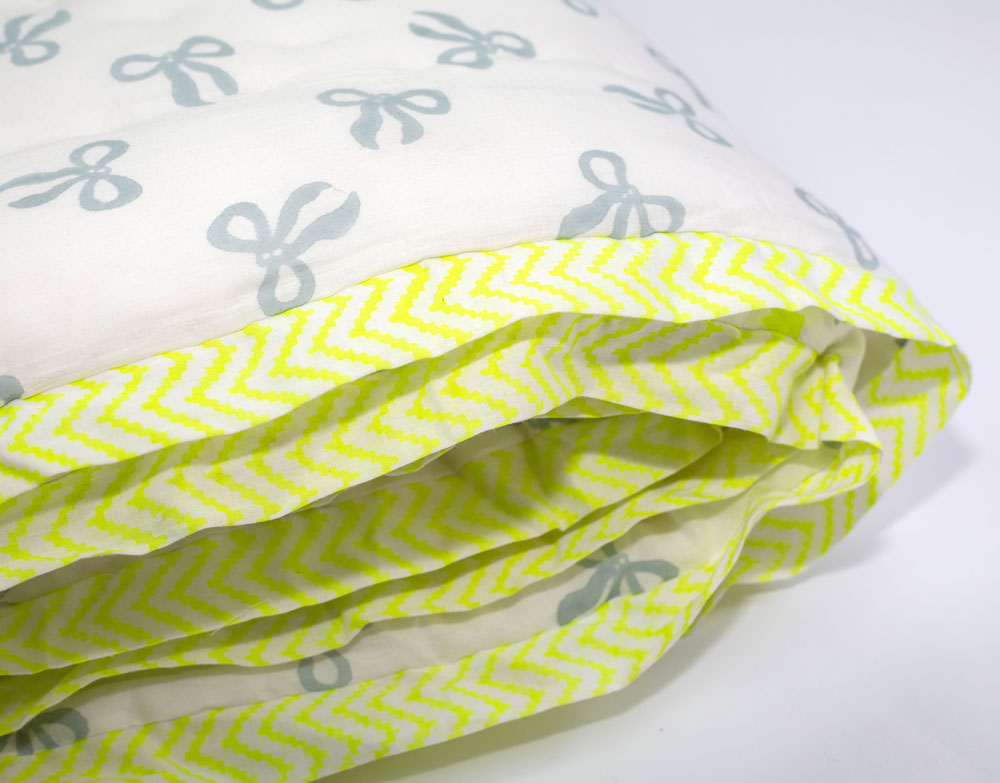 If you're on the hunt for the finishing touch to a little one's bed then look no further than our stylish Bow Quilt! Block printed by hand on both sides with contrasting Bow and star prints, each quilt is trimmed with a zingy fluoro chevron border for a cheery pop of colour. These quilts are perfect as a lovely cosy extra layer on cooler nights and look lovely folded at the end of a child's bed or baby's cot.
Good to know
Each Bow Quilt is printed, filled and quilted by hand
Our Bow Quilts are made of 100% natural materials, making them ultra breathable and incredibly soft for delicate skin
Each quilt measures a generous 110 x 150cm
FAQs
Can these quilts be machine washed? Absolutely! We try and make sure that our pieces are as practical as possible so these quilts can be popped in the machine at 30 degrees
Is it easy to match these with other pieces in similar colours? Definitely - all of our colours are designed to work together and we use tonal colour groups so that everything looks harmonious
What would you pair a quilt with as a gift? A Bolster Pillow or co-ordinating cot sheet would both work very well
Bow Quilt
Delivery was quick. Quilt is really cosy and nice patterns. Perfect for cot, bed or keeping warm on car journeys. Different from other quilts to buy.
FAQ
Where are your pieces made?
All of our pieces are made by hand in India or Nepal. We work with small, female-led studios that adhere to strict ethical and environmental policies.
Will I need to gift wrap my order?
We package everything beautifully so that there's no need to gift wrap yourself. This means that you can send your present directly to the lucky recipient!
Do you ship internationally?
Yes! If your shipping destination isn't automatically recognised at the checkout then please get in touch with us at hello@willaandthebear.com
A piece I want to buy is out of stock, will it be coming back?
Unless a piece is a Limited Edition then it will be back! As our collections are produced entirely by hand we order in fairly small batches.
Shipping
Fast shipping
Where possible we process all orders within 24 hours (Monday - Friday) and send 1st class with Royal Mail.
Order tracking
All of our orders are sent 1st class tracked so that you can keep an eye on the status of your delivery.
Get in touch
We're here to help! If you have a question then please drop us an email at hello@willaandthebear.com
About us
We are a small business making lovely things for small people
Willa and The Bear was founded by Hattie in 2014. Mama to Willa, Maud and Gus, Hattie knows a thing or two about the parenting journey and the stuff that helps make life a little bit easier!
We believe in quality and longevity
Every one of our pieces is designed by Hattie in Norfolk and made in small, female run studios in India or Nepal. Shilpa in Jaipur and Rojina in Kathmandu oversee our makers who are all true artisans in their field, block-printing and finishing each item by hand.
Ethical production only
We only use trusted makers and supply chains that operate completely ethically. No mass-produced, anonymous factory settings for us which means that our products are invariably more expensive to produce but we wouldn't have it any other way. We know that our customers appreciate this important part of our manufacturing process too.
The Process
By Hand
Our female-led studios mix our environmentally-friendly dyes entirely by hand...
The Process
Block Printing
Hattie's designs are painstakingly transferred to specially prepared wooden blocks which are then carved by hand. The designs are then printed onto our fabric by skilled artisans who create perfect repeat patterns entirely by eye.